Tracy Morgan is rootin' for blacks.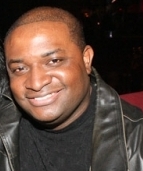 Blog King, Mass Appeal
LOS ANGELES — On Monday night, restive funnyman Tracy Morgan showed his ass on national television by revealing his ethnological bias at the 2018 Emmy Awards. Only problem is nobody's laughing. While bestowing the award for best supporting actress in a comedy series, the 49-year-old humorist told the Hollywood audience he's "only rooting for black people." Tracy, star of TNT's 'The Last O.G.,' presented the accolade alongside talk show host Jimmy Kimmel at the Microsoft Theater in Los Angeles. His tendentious utterance came after the nominees were listed off.
"I'm rooting for Leslie Jones, Zazie Beetz, and Millie Bobbie Brown," Tracy told Kimmel. Millie? What the hell? Dude, she wasn't up for that award. Tracy, where did you get your information? Were you high? "She's not nominated, and not in this category," Kimmel retorted. "Then she's uninvited from the barbecue," Tracy cracked.
The Last O.G. has made a habit of pissin' people off as of late.
Tracy Morgan Says He's 'Only Rooting for the Black People' at the #Emmy Awards https://t.co/y87U2Y6sXd

— People (@people) September 18, 2018
If you recall, a couple months ago, Tracy incurred the choler of comedian Lil Rel after he appeared to diss O.G. co-star Tiffany Haddish during an appearance on Vulture Spot. When asked if he's enjoying watching Tiffany's career blow up, Tracy replied: "We're not gonna go there… because this isn't Tiffany's show."
"This is Tracy Morgan. This is 'The Last O.G.'"
Rel, who shared the spotlight with Tiffany on 'The Carmichael Show,' took offense to Tracy's assertion. "This is one hating ass dude right here," Rel tweeted. "That show would be nothing if [Tiffany Haddish] wasn't on it… Don't bite the hand that keeps you relevant!!!"
Do you agree with Rel?
Is it time for Tracy to tone it down?
Should non-blacks feel aggrieved by his Emmy remarks?
Share your thoughts below.