Eddie Murphy is getting married.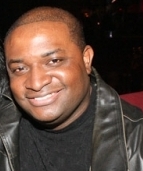 Blog King, Mass Appeal
LOS ANGELES — Coming to… another wedding? Veteran thespian Eddie Murphy is gettin' hitched for the second time. The 57-year-old humorist popped the question to gravid girlfriend Paige Butcher on Friday and she said "yes." The marriage proposal couldn't have come at a more opportune time given the fact Paige is pregnant with their second tot. Eddie started dating the 39-year-old model in 2012. They're already proud parents of 2-year-old daughter Izzy Oona.
Concocting neonates is nothin' new to the 'Coming to America' star.
Eddie Murphy pops the question to girlfriend Paige Butcher, who's pregnant with his 10th child. 💍 https://t.co/WuhlZO8tJ3

— E! News (@enews) September 28, 2018
Eddie has a tribe of 9 children (soon to be 10) by five different chicks, including former Spice Girl Mel B. He was married to Nicole Mitchell from 1993 to 2006. Rumors of matrimonial bliss were emanated on Thursday after paparazzi photographed a coruscate new rock on Paige's left hand.
Prior to that, no one was au fait of their marital ambitions.
"They live a pretty low-key life," said a close source.
"They are all about family. Paige is very close to Eddie's kids."
Congrats Eddie and Paige!
Share your thoughts below.