The Neighborhood racist, but comical.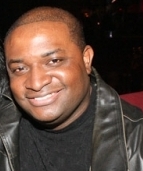 Blog King, Mass Appeal
LOS ANGELES — Tadow, West Side! It's never facile uprooting a family, especially when the migration entails deracinating your white kinship from a Midwestern suburb to the intransigent streets of urban Los Angeles. But that's the racist challenge that awaits Dave Johnson (Max Greenfield) in the new CBS sitcom "The Neighborhood." After arriving at their new address, the Johnsons learn their neighbors are the Butlers, a black family led by pessimistic patriarch Calvin Butler (Cedric the Entertainer). Being from a small town, Dave does everything in his power to concoct a 'bromance' with Calvin. But his endeavors, while magnanimous, typically backfire — causing a rift between the juxtaposed pair.
8 Million Viewers Watched Cedric The Entertainer And Tichina Arnold 'The Neighborhood' Premiere https://t.co/VpjoI5yqI3 pic.twitter.com/gXZlmlbe3L

— Comedy Hype (@ComedyHype_) October 3, 2018
Calvin, by the way, harbors ample preconceptions when it comes to Caucasians. In his own prejudiced mind, Calvin's convinced Dave's relocation equates to an ominous dark cloud of gentrification. Both Cedric and Jim Reynolds (The Big Bang Theory) serve as executive producers of the show.
Cedric and Max are joined by an entertaining cast that includes Tichina Arnold (Everybody Hates Chris, Martin and Survivor's Remorse), Sheaun McKinney (Vice Principals), Beth Behrs (2 Broke Girls) and Marcel Spears (The Mayor). The Neighborhood airs Mondays at 7 PM CST on CBS.
8 million viewers watched the premiere.
Will the show last?
Share your thoughts below.