KCK Detective facing lawsuit.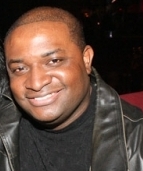 Blog King, Mass Appeal
KANSAS CITY, Kan — Former Kansas City, Kansas police detective Roger Golubski faces litigation for allegedly extorting sex from low income black women. In a lawsuit, filed by Lamonte McIntyre and his mother Rose McIntyre, Golubski is accused of soliciting sexual favors from Rose. When she refused, the lawsuit says Golubski exacted reprisal by framing Lamonte for murder. Lamonte, if you recall, was recently released from prison after serving 23 years for a double homicide he didn't commit.
The lawsuit alleges a drug dealer named "Monster" killed Donald Ewing and Doniel Quinn in 1994.
Rather than go after Monster, Golubski allegedly set up Lamonte by coercing two witnesses to issue fallacious statements. Lamonte was consequently locked-up despite the fact law enforcement officials refused to gather fundamental evidence specific to fingerprints and DNA.
This is Roger Golubski, former KCKPD detective who, according to the lawsuit, spent decades exploiting black women, extorting sexual favors from them and then manipulating them into false testimony to close his cases. pic.twitter.com/W5pVrKf897

— Andrea Tudhope (@_tudhope) October 12, 2018
The lawsuit also claims current Police Chief Terry Ziegler and members of his administrative team were aware of Golubski's improprieties, yet failed to report them.
Here's where things get duplicitous:
Rose and Golubski have a history.
Prior to the aforementioned double murder, Rose said Golubski tried to make her render an amorous act by threatening to lock up her then-boyfriend if she didn't please him sexually. When Rose declined, Golubski allegedly assaulted her at the police station.
Not done yet.
There's more.
Prior to retiring in 2016, Golubski allegedly fixed tickets and expunged warrants for impoverished black women who gave him sex. To add insult to orgasms, Golubski's misogynistic treatment of Ebony babes was hardly a secret. Fellow officers reportedly joked about his deportment in the squad room.
If the court determines Lamonte's lawsuit bears any veracity, Golubski's fate would no doubt serve as a black eye to KCK's justice system. The allegations are very disturbing.
Share your thoughts below.