Crazy Tiffany is "Nobody's Fool."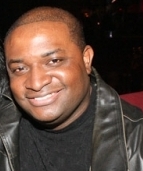 Blog King, Mass Appeal
LOS ANGELES — She hosted the MTV Movie Awards. She emcee'd Saturday Night Live. And she starred alongside Tracy Morgan in the hit TNT comedy "The Last O.G." Needless to say, it's been a busy, yet remunerative 2018 for 'Girls Trip' alum Tiffany Haddish and she certainly warrants credit for striking while the iron's hot. Roughly a month after the release of Tiffany's "Night School," the 38-year-old comedienne is back for more chortles in Tyler Perry's newest farce "Nobody's Fool."
In the film, Tiffany portrays a latterly paroled ex-convict who fuses an amalgamation with her Boujee corporate sister (Tika Sumpter) to help nab a "catfish" posing as an eligible bachelor.
November 2nd will be here before you know it!! Y'all better get ready. #NobodysFool pic.twitter.com/G9aZsfgchX

— Tyler Perry (@tylerperry) October 11, 2018
Joining Tiffany and Tika onscreen are adept thespians Whoopi Goldberg and Omari Hardwick. The flick, of course, is written and directed by Perry. His renowned alter-ego, Madea, isn't in the film. "Hallelujer!" But the pistol-packin' granny certainly deserves a break after engendering boatloads of mazuma for Perry's long-running cinematic franchise.
Madea has grossed roughly a half billion dollars worldwide through an octet of familial comedies.
"Nobody's Fool" hits theaters Nov. 2nd.
Are you excited?
Share your thoughts below.