Carruth now free, challenges await.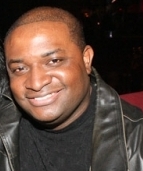 Blog King, Mass Appeal
CLINTON — After serving 17 years in the joint, former NFL wideout Rae Carruth is a free man. Carruth, if you recall, was convicted of conspiracy to commit murder in 2001 after he remunerated callous hit man Van Brett Watkins for extirpating Cherica Adams, his pregnant baby mama, because… he didn't want to pay child support. Cherica, 24, was shot four times while driving her BMW. Watkins, who received 40 years behind bars, pulled up to the side of Cherica's vehicle and let his gat explode.
The gravid damsel died at an area hospital but her baby survived after being surgically removed from her womb via C-Section. The rescue didn't come without a corollary. Due to deprivation of blood and oxygen, Cherica's baby boy suffered colossal brain damage that rendered him handicapped.
BREAKING NEWS: Rae Carruth walked out of prison at 8:02 a.m. after serving a nearly two decades sentence.

THE LATEST: https://t.co/RXQs8Uy7Ve pic.twitter.com/zEgMAXY384

— NBC Charlotte (@wcnc) October 22, 2018
Today, Chancellor Lee Adams is 18-years-old with cerebral palsy. He's stuck with a caregiver for the rest of his life… thanks to dad. Back to Rae. Around 7 AM CST Monday morning, Carruth sauntered through the security gate at Sampson Correctional Institution in Clinton, North Carolina.
Amid a smattering of applause, Carruth jumped into a white Chevy Tahoe and burned out without speaking to reporters. He did, however, chat with WSOC-TV on Sunday in a phone interview. "I'm excited about just being out of here," said Carruth who'll spend 9 months in a post-release program.
"I'm nervous just about how I'll be received by the public."
Um… Rae, don't expect any cake, balloons and party favors no time soon.
There's a vocal majority who'd still like to see you in prison.
"I still have to work. I still have to live," Rae said.
"I have to exist out there and it just seems like there is so much hate and negativity toward me. I'm actually somewhat frightened."
When asked if he plans to form a relationship with his disabled son, Rae brushed off the question.
Do you think he feels too much culpability to start something with Chancellor?
Share your thoughts below.