Black teacher goes Tyson on student.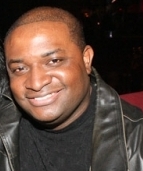 Blog King, Mass Appeal
MAYWOOD – This week's "I Messed Up A Good Job Award" belongs to Marston Riley, a California music teacher at Maywood Academy High, who apparently saved his greatest hits for a recalcitrant student. Marston, a 64-year-old black man, reportedly told the kid he was donning the wrong school uniform. Rather than respect his elders, the 14-year-old Hispanic student responded by calling him a n*gger and b*tch repeatedly in front of the entire class. The churlish teen also cussed him out (drawing laughter from the audience) before throwing a basketball at him. The incident took place on Friday.
A Black band teacher-Marston Riley was arrested after he defended himself from a hispanic student who hit him with a basketball,called him multiple epithets, & continued to threaten him. If this were a Black student, the kid would have been arrested & the teacher would be a hero pic.twitter.com/0KkQi3Zk2t

— Tariq Nasheed (@tariqnasheed) November 4, 2018
Perhaps humiliated over the comical series of events, Marston completely snapped by knockin' the hell out of the kid. When other students tried to intervene, a berserk Marston simply shoved them aside and proceeded to hurl a plethora of batter. At one point, Marston used his cell phone to wallop the scrawny youngster upside the head.
Students recorded the lopsided ordeal on their mobile devices. Police eventually responded to the scene to throw Marston's black ass in jail. He now faces multiple charges tied to child abuse and assault. Marston's scholastic career is pretty much in the toilet over a hard-headed pupil.
Yes, the kid instigated the grapple.
But, at 64-years-old, Marston should've known better.
Watch the disturbing footage.
Share your thoughts below.