"Family Business" star highly active.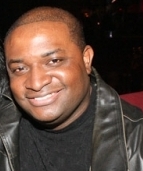 Blog King, Mass Appeal
LOS ANGELES — Carl Weber's "The Family Business" made its highly anticipated debut on BET and all signs indicate it's gonna stick around for multiple seasons. So, what's the synopsis? The villainous television series details the daily affronts of the Duncans, a grandiose black family that's under constant siege from conniving politicians, gang bangers, and Mexican drug cartels. Yours truly spoke with actor Darrin Henson recently about the action-packed BET series that airs Tuesday nights.
Darrin stars as Orlando Duncan — the muscle-bound son of murderous patriarch L.C. Duncan (Ernie Hudson) who dropped the show's first bombshell when he announced his abrupt retirement from the family business — an exotic car dealership in upscale New York.
Less than a minute later, L.C. relinquished Bombshell No. 2 by making Orlando the heir apparent, causing profuse jealousy and in-fighting among rival family members.
"The Duncan family is such a strong, charismatic family that's all about business," Darrin said during our chat. "When you deal with people who are obtaining money through underground resources, the lines get blurred."
The Duncans might be the most polarizing family on television.
During the day, they come off as being an upstanding, quintessential unit. But, when the lights go off, it's a completely different story. That's because at night, both Orlando and his kid sister Paris Duncan (Javicia Leslie) are nothing short of licentious. The former employs hookers on a routine basis.
The latter uses her eroticism primarily for sordid purposes.
Joining them onscreen are thespian heavyweights Clifton Powell (Black Lightning), Miguel Núñez Jr. (Juwanna Mann), Tami Roman (Basketball Wives), Michael Jai White (Why Did I Get Married) and Valarie Pettiford (Jumping the Broom). Gotta give BET officials credit. That's one helluva lineup.
"It's a very diverse cast," Darrin said. "I love playing Orlando Duncan. To work with artists like Ernie Hudson, Miguel Núñez, Tami Roman and Malik Yoba, I'm speechless."
Again, be sure to tune in to BET every Tuesday night at 8 PM CST.
Also, check out Darrin's holiday film "Nothing Like Thanksgiving."
Other highlights from our confabulation…
Darrin said they're in the process of concocting "Black Coffee 2" with filming set to begin 1st quarter 2019. Actress Gabrielle Dennis (Rosewood) is Darrin's costar. If you missed the original film in 2014, watch it. It's a chick flick no doubt. But exceptional nonetheless.
"Gabrielle Dennis is an amazing actress," Darrin said.
"Black Coffee is not only a force in the African-American community, it's a force around the world."
Darrin, who lives in Los Angeles, also bragged about the Rams' 54-51 victory over our Kansas City Chiefs — the highest scoring Monday Night Football game in NFL history. Darrin's words cut deep. It was a tough pill to swallow. But, if you recall, I picked the Rams to win and they did.
I said the Rams wouldn't cover the spread (-3.5) and they didn't.
And, when Vegas released the historic over/under of 64, I took the points and was once again correct. Needless to say, I came out like a fat rat. I took some of that cash and bought a bunch of sustenance for Thanksgiving. Also, 70% of gamblers took the points, resulting in a 7-figure loss for Vegas.
If you're part of the 30% who didn't, shame on you.
That's basically throwing free money in the trash.
Darrin also said he's a big fan of Kansas City barbecue. He plans to visit KC shortly after filming BC2. He asked that I take him to Gates BBQ. Hmm… maybe we can set up a book signing there? After all, Darrin's publication "Pregnant With Thought" is available for purchase at DarrinHenson.com.
Anyway, are you a fan of "The Family Business?"
Are you looking forward to "Black Coffee 2?"
Share your thoughts below.