Khloé & Kourtney's mama disposition.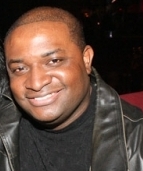 Blog King, Mass Appeal
LOS ANGELES — Reality TV star Khloé Kardashian divulged the first word vocalized by 7-month-old daughter True and it has plenty to do with dada. 'The Keeping Up with the Kardashians' member and NBA veteran Tristan Thompson welcomed their baby girl on April 12th.  Khloé, 34, made the familial rescript on her app and website. "I can't believe my baby is seven-months-old," she wrote with a winky face emoji attached. "True now has three teeth and she's going to crawl any second. She also smiles constantly, but I still can't get that little munchkin to laugh unless I tickle her. Maybe I'm just not funny, LOL. She also says 'dada,' but I think she means 'mama.'"
Speaking of 'Keeping Up with the Kardashians,' Khloé's sister — Kourtney — recently posed au naturel on the cover of GQ Mexico's latest issue despite being a 39-year-old mother. Gotta admit. She looks pretty damn good in a plethora of titillating raiments. But, why the nude photo shoot?
And what kind of message does it send?
Kourtney's elucidation is fivefold.
"I am very comfortable in my own skin," she told GQ.
"I like to be naked in my house and I think it is important to show positive images of our body. Being a mother to me is the most important thing, because it's what my heart occupies. Then I would say exercising — not only for my body, but because it does my mind a lot of good, relaxes me. In third place, my favorite activity is traveling because it feeds my soul, followed by nutrition."
"I used to do very specific diets," Kourtney continues. "I learned something from all of them and incorporated them into my lifestyle, but I'm not so strict anymore. Fifth, I would put the decoration because it is where I express myself creatively. Then beauty, not so much from the point of view of makeup, but rather define it as 'self-care' — do things to feel better, like a massage, for example. And in the end, it would be fashion — which is my passion — but I don't give it so much time or attention anymore."
So, what's your take?
Are you a fan of the show?
Do you find Kourtney's deportment execrable?
Share your thoughts below.