Kareem Hunt assaulted Caucasian lady in hotel
Video shows Hunt assault a woman.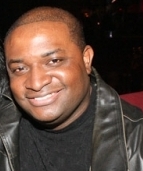 Blog King, Mass Appeal
CLEVELAND, Ohio — Everybody's buzzing over the graphic surveillance video released by TMZ on Friday that shows former Kansas City Chiefs halfback Kareem Hunt delivering his best Ike Turner impersonation at the aching expense of 19-year-old Abigail Ottinger inside Cleveland's 'Metropolitan at the 9' hotel. Yes, I said "former" Kansas City Chief because Kareem was consequently released shortly after the video surfaced. The ghastly ordeal went down around 3:30 a.m. at a private soirée in mid-February. Raw footage shows Kareem shoving Abigail to the hallway floor before kicking her while she's down. Team officials were immediately aware of the debacle. But Kareem apparently lied about the severity of it, leading to his expedited dismissal.
"Earlier this year, we were made aware of an incident involving running back Kareem Hunt," said Chiefs owner Clark Hunt in a statement. "At that time, the National Football League and law enforcement initiated investigations into the issue. As part of our internal discussions with Kareem, several members of our management team spoke directly to him. Kareem was not truthful in those discussions. The video today confirms that fact. We are releasing Kareem immediately."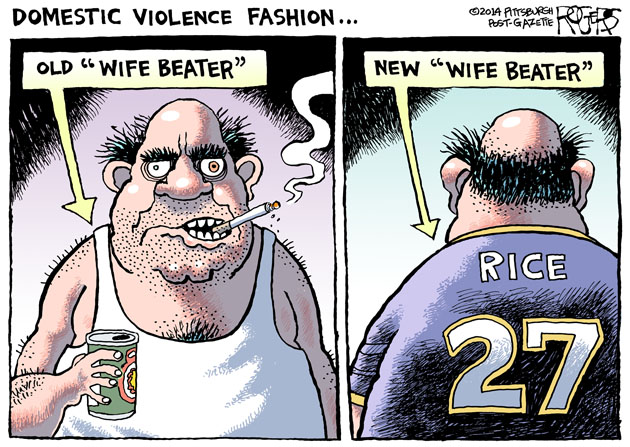 Kareem's calamity is eerily similar to the infamous incident involving former Baltimore Ravens runningback Ray Rice who was promptly banned from the NFL after TMZ aired his dirty laundry 4 years ago. Speaking of TMZ, I'm a big fan of their work. They employ compelling bloggers like myself and their staff secures the type of sensitive information newspapers and television crews can't get.
No wonder traditional media is dead. They can't find sh*t. Bloggers have indeed taken over the journalism industry and, as a former newspaper employee, I'm savoring the renaissance.
Sorry, I digress.
Haha!
Back to the topic.
I know whatcha thinking. As Chiefs fans, many of us are pondering if Kareem deserves the same commensurate fate as good ole Ray. In my humble opinion, the answer is "no." That's because a diminutive variance exists. See, Kareem pushed and kicked Abigail — which is bad.
But Ray knocked his baby mama out cold with a vicious left hook then dragged her comatose body off the casino elevator like she was a bag of trash. Once TMZ released Ray's video, his career was over.
The same could be true for 23-year-old Kareem.
We'll see what happens. Kareem is young and talented. So, somebody figures to give him a second chance despite the fact he cleared waivers. Also, keep in mind, Cincinnati Bengals halfback Joe Mixon was also caught on video assaulting a chick and he's allowed to play.
Only difference is in Joe's TMZ video, the woman hits him first.
Here's something interesting: the Chiefs let Kareem go but they drafted and gave a contract to Tyreek Hill despite the fact he beat the snot out of his then-pregnant girlfriend. The pummeling was so acute, Tyreek was charged with a felony. Conversely, Kareem hasn't been charged (at least not yet).
So my question to Mr. Hunt is why stick with one and not support the other?
Is it because Kareem got busted on video?
If so, what difference does it make?
Tyreek inflicted far more damage upon his victim than Kareem did and the woman was gravid.
Anyway… in conjunction with the aforementioned footage, TMZ released a second video that shows Kareem and Abigail being interrogated by police. For whatever inexplicable reason, no charges were filed. But, in the cops' presence, they both appear to be drunk, high or an admixture of the two.
A shirtless Kareem was completely incoherent and a scantily clad Abigail looked like she downed a handful of vodka shots prior to questioning. Nevertheless, Abigail told officers Kareem went psycho after she eschewed giving up the derrière to a member of his entourage.
Conversely, Kareem contends Abigail instigated the ruckus by calling him a n*gga.
Hmm…
Let's confabulate on "n*gga" for a second because the derogatory moniker has gotten thousands of people fired, jailed and/or killed. Like most things in the United States, it starts with litigation. If you're black, it's imperative you understand it's not against the law to call you a n*gga.
Is it immoral?
Yes.
Is it cowardly?
Absolutely.
But it's not illegal.
Pushing and kicking someone, however, is against the law and, on most occurrences, those barbaric actions will land your ass in jail, unemployed, with a criminal record.
Racists are smart.
They know the law.
If you want the N-word legislated, contact your district politicians and implore them to prohibit its use. Perhaps if it becomes a crime to utter "n*gga," people won't say it. In the meantime, if someone calls you a name, channel your inner Richard Pryor and hurl disparages right back at 'em.
Had Kareem done that, he'd still be a Chief.
Seriously, it's not a crime to verbally retaliate.
By partaking, you may feel better and, most importantly, you won't become a miscreant.
Truth be told… if you call me a name, I'm gonna hurt your feelings. After all, I'm equipped with an infinite vocabulary and I'm the wrong negro to play 'Scrabble' with. Now, once you put your hands on me, I'm putting you to sleep which is perfectly legal as an act of self defense.
That's the difference between Joe's situation and Kareem's.
Joe was reactive.
Kareem was proactive.
Look, I don't know who told blacks it's satisfactory to smite someone who calls you the N-word. I'm merely articulating that logic is both fallacious and criminal. The holiday season has arrived. Kareem's incident went down in February. Several months later, guess who won?
Abigail.
Not only did she cost Kareem millions in earnings and endorsements.
She now has ample video evidence to file a lawsuit.
Abby is about to get paid and that was probably her stratagem all along.
Seriously folks, it only takes 2 seconds to think.
Astute blacks get it.
Benighted negroes need to buy a clue.
Watch the ass-whuppin.'
Share your thoughts.