Forest Whitaker seeking divorce.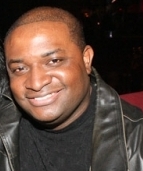 Blog King, Mass Appeal
LOS ANGELES — After 22 years of holy matrimony, Forest Whitaker is headed to divorce court. The lazy-eyed thespian seeks divorcement from his wife of more than two decades, Keisha Nash-Whitaker. Court docs were filed Thursday in Los Angeles County Court. Forest, 57, is reportedly calling it quits on grounds of irreconcilable differences. The pecuniary worth of the couple's assets and liabilities will be determined at a later date. Forest and Keisha, 46, have two children together and one apiece from prior relationships.
All four are adults so child support shouldn't be an issue.
Forest Whitaker, wife Keisha Nash Whitaker divorce after 22 years of marriage — Take a look at the celeb relationships that didn't survive 2018 https://t.co/Vg37Ts7B3c pic.twitter.com/GUFXRl3Q5A

— New York Daily News (@NYDailyNews) December 28, 2018
Forest and Keisha met on the set of Stephen Hopkins' action film "Blown Away" in 1994. They got hitched two years later. Forest, an Academy Award winner, starred as Zuri in Ryan Coogler's "Black Panther." He recently played Eddie Barker in Lee Daniels' Fox television drama "Empire."
Keisha, a model, once appeared in a reality TV show titled "Who Are You Wearing."
What's your take?
Did somebody have an affair?
Are they making a mistake?
Share your thoughts below.