Eddie's Christmas portrait 10 deep.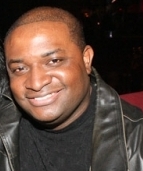 Blog King, Mass Appeal
BEVERLY HILLS — "We are family!" No wonder Eddie Murphy concocted so many damn movies. That negro has a decad of ravenous mouths to feed. On Tuesday, 29-year-old Bria Murphy, Eddie's eldest daughter, shared a cozy Christmas photo on Instagram that shows the 57-year-old comic posing with his 10 kids — including 3-week-old son Max who's fresh out his mother's womb. Joining Eddie and Max in the portrait are: fiancée Paige Butcher, 2-year-old daughter Izzy Oona, eldest son Eric (29), son Christian (28), daughter Angel Iris (11), daughter Bella Zahra (16), daughter Zola Ivy (19), daughter Shayne Audra (24), daughter Bria (29) and son Miles Mitchell (26).
Eddie also has five baby mamas.
Damn, his child support payments must've been a bitch.
Makes you wonder if he can remember his kids' names?
Instead of 'Coming to America,' Eddie should've visited a vasectomy specialist.
Share your thoughts below.