Orlando Brown confessed transgressions on Dr. Phil
Orlando's demons exposed on Dr. Phil.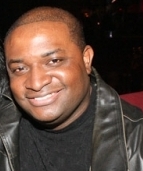 Blog King, Mass Appeal
LOS ANGELES — Remember Orlando Brown, the portly Disney actor who starred alongside Raven-Symoné in the hit TV sitcom "That's So Raven?" If you do, you probably won't recognize his ass today because he's not lovable anymore. As a matter of fact, dude is a straight up junkie. Orlando, 31, is catching headlines for his crackhead intervention with Dr. Phil. From the outset of the sedentary conclave, an inebriated Orlando comes close to blacking out on national television. It's the arguably the most harrowing interview ever. During the confabulation, Orlando donned a pair snake eye contact lenses. He also chortled for no reason and he couldn't remember the names and ages of his children. Orlando later confessed to selling narcotics and experimenting with crystal meth. Orlando then claimed he's 4 years abstinent (which is damn lie because he's visibly high during the Q&A). When asked what derailed his once auspicious acting career, Orlando replied: "I was drinking a lot and I found myself in a dark place… It was a binge of vodka… marijuana… crystal meth…" 
Orlando said he's seeking Raven's hand in marriage. The only problem is she's been openly gay for years and Raven is a lesbian. Not sure what Dr. Phil tried to accomplish. Maybe he's looking to ameliorate TV ratings? Sadly, Orlando joins a lengthy list of child stars who've gone cuckoo for Cocoa Puffs. He's been arrested multiple times and his outlook remains dire.
Is Orlando capable of concocting a positive change?
Share your thoughts.