Reggie B, Blog King discuss our Chiefs.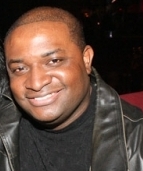 Blog King, Mass Appeal
KANSAS CITY — While filling in for radio extraordinaire Debbie Dee, Carter Broadcasting personality Reggie Brown and yours truly brought in the New Year with a jovial confabulation on the Kansas City Chiefs and their chances of reaching the NFL 'Promised Land' known as the Super Bowl. Reggie, a Texas native who can be heard daily on Kansas City radio station KPRT 1590 AM, pledged his allegiance to the Chiefs despite the fact his hometown Houston Texans are a playoff participant.
KPRT, by the way, is the sister station of Hot 103 Jamz.
To hear Reggie B and Blog King via Mass Appeal Radio, listen to the podcast below: