Chris Brown got busted for rape.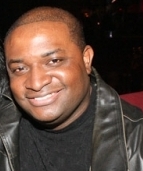 Blog King, Mass Appeal
PARIS — Chris "Breezy" Brown has officially entered R. Kelly, Bill Cosby territory. The 29-year-old singer was arrested in Paris on Monday amid vile suspicion of rape. Chris, his bodyguard, and a friend were detained after a 24-year-old woman claimed her vulva was stolen on January 15th in Breezy's suite at the Mandarin Oriental. Man, if I were a singer today, I'd pleasure myself until the R. Kelly case is resolved. I'm serious. Having casual sex would be the last thing I'd do.
Thanks to Lifetime, it's too risky.
Chris, think about it. Cosby is in jail. Kelly is on his way. And you're gonna fool around and be next. Breezy, it's best you eschew fornication for the time being. To compound matters, Chris has a lengthy history of gettin' aggressive with chicks. If you recall, he beat Rihanna's ass in 2009. Then, in 2016, Chris had his yellow buttocks thrown in jail for pointing a gun at a woman. Now he's accused of the R-word.
If convicted, Chris is looking at 15 years in the slammer.
Again, stay away from nooky until everything cools down.
Like Gonorrhea, times are hot.
Share your thoughts below.