Young & Restless actor found dead.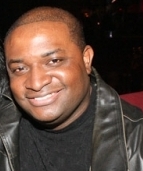 Blog King, Mass Appeal
WOODLAND HILLS — Kristoff St. John, best known for his role as Neil Winters on the long-running CBS drama "Young and the Restless," has moved on to that great, big soap opera in the sky. The light-skinned thespian died Sunday from an apparent alcohol overdose. He was 52. Kristoff's attorney, Mark Geragos, confirmed the heartbreaking news through an email, saying "Sadly we can confirm." Officer Rosario Cervantes, of the Los Angeles Police Department, said officers responded to an incident that took place at Kristoff's home. By the time they arrived, it was too late.
Kristoff was pronounced dead at the scene. 
"We did respond yesterday at 2:05 p.m. on Morea Way for a possible alcohol overdose," Cervantes said. Kristoff's fiancée, Kseniya Mikhaleva, went off on Twitter. The Russian model seeks answers. "How did it happen ??? How ??? Why did you leave so early ???? and left me alone," Kseniya tweeted. "You were everything to me …. you were a loving father, a loving man,…..how ??"
Kristoff divorced twice but fathered 3 children.
His 24-year-old son Julian committed suicide in 2014.
Blog King reached out to actress Victoria Rowell to send condolences. She starred alongside Kristoff as Drucilla Winters. Victoria has done several radio interviews with Mass Appeal and she's considered a good friend. She released the following statement:
"Kristoff was a joy. He lived for the day. He loved working in film, prime time and starring on 'The Young and the Restless.' He cared about preserving the African-American legacy on the show and not being pigeon-holed into a black storyline."
"I shall forever cherish our private and professional time together. Now, is a time for reflection, to mourn his departure and celebrate his brilliance, permanently imprinted on my memory."
Words well spoken.
Rest in peace Kristoff.
You're gone but not forgotten.