Gordon Ramsay critiques restaurant in 18th & Vine
Ramsay visits KC restaurant.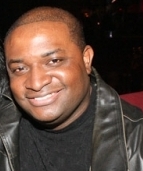 Blog King, Mass Appeal
KANSAS CITY — Jambalaya anyone? How about some Étouffée? Celebrity chef Gordon Ramsay brought his brash deportment to Kansas City's 'Bayou on the Vine' recently to record an episode of his hit reality TV show "24 Hours to Hell and Back." The conception (season two, episode 6) was filmed in November, but aired Wednesday night (Feb. 6) on Fox. The Cajun bistro, located in the historic Jazz District at 18th and Vine, is owned by Sharekka Byrd and family members. It opened in 2017. "I'm so glad to be here," Sharekka, 26, told reporters. "I've always known I would become a business owner… We kind of wanted to capture some of Louisiana and bring it here to Kansas City."  Prior to disclosing his identity, Ramsay patronized Sharekka's restaurant as an undercover customer to sample random entrées, descry its ambiance, and critique her personnel. After witnessing a series of nightmarish events, Ramsay stood up, took off his costume, then issued a shocking behest.
"Ladies and gentlemen, can you listen for 30 seconds please?" Ramsay asked.   
"I'd like [you all] to stop eating."
Patrons were flabbergasted. So were Bayou staff members who had no idea Ramsay infiltrated their venue. "I go covert, go undercover, whether it's a jazz player, construction worker, or even the last couple weeks an old lady," Ramsay told Fox 4 News. Once he blew his own cover, Ramsay had 24 hours to effectuate an emergency makeover. But it was hardly facile.
Mainly because Sharekka and her family don't get along. As a matter of fact, they spend the entire interlude bickering and squabbling through impulsive episodes of profanity-laced tirades.
Fox producers had to beep out every other word.
Hell, Ramsay got cussed out too.
The good news?
The food looks damn good.
Anyway, what's your take?
Is there hope for Sharekka and Company?
Do you plan to visit the eatery soon?
Watch the show.
Share your thoughts.