Ex-Royals player assaults girlfriend.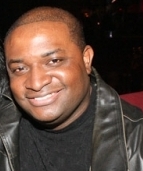 Blog King, Mass Appeal
GLENDALE — Like father, like son? Former Kansas City Royals outfielder Brian McRae was really good at hitting baseballs. He's also highly proficient at hitting women. The 51-year-old McRae had his bestial ass thrown in jail the other day after he allegedly beat the hell out of his ex-girlfriend for, get this: she wouldn't give up the derrière. The domestic ordeal transpired at a Residence Inn Hotel (Room 401) around 4:30 a.m. on February 2nd in Glendale, Arizona. That's where a truculent McRae proceeded to belabor and choke the petrified damsel after she insisted on going home.
The vindictive chick accused McRae of cheating and reportedly withheld sex, causing him to blow a gasket. The infraction proved costly. McRae was consequently fired as head coach of the Victoria HarbourCats. What a bad 24 hours. He lost his job and woman on the same day.
The team released the following statement:
"The HarbourCats organization always strives to meet the high standards of the community we are proud to represent. Once we were made aware of the allegations, the HarbourCats moved to terminate the contract. Due to respect for all involved, and the legal process and a desire not to impact or impede any ongoing investigation, we believe any further details on the situation best to come from the authorities."
Word on the street claims McRae punched the poor woman multiple times before strangling her into near insensibility. He also hit her in the head with an iron. Police said McRae was shirtless and "under the influence of alcohol and drugs" at the time of his arrest.
McRae now faces charges of aggravated assault impeding breathing, unlawful imprisonment, threat and intimidation with injury, damage to property, and aggravated assault with a deadly weapon.
McRae played 5 seasons for the Royals in the early '90s.
He was also a baseball analyst for ESPN.
Whuppin' people's ass runs in the family.
If you recall, Hal McRae (Brian's dad) went postal on reporters in 1993.
Share your thoughts below.