Steve Harvey and Mo'Nique disagree.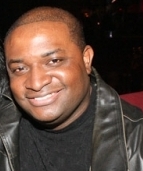 Blog King, Mass Appeal
CHICAGO — Steve Harvey is catching hell via social media after the 61-year-old talk show host told Mo'Nique cash is more salient than integrity. The 51-year-old comedienne made an appearance on "The Steve Harvey Show" on Wednesday to confabulate on being "blackballed" from Hollywood the past 10 years. In case you didn't know, Mo'Nique pissed off filmmaker Lee Daniels in 2009 after she eschewed going on a press tour for the movie "Precious" — the role that won her an Academy Award. Mo'Nique told Daniels "no" because he offered $50,000 and she wanted more.
As an act of reprisal, Daniels informed Tyler Perry and Oprah Winfrey of Mo'Nique's avaricious deportment and she's been ostracized ever since. Mo'Nique may have screwed herself for good when she said Daniels, Perry and Oprah could 'suck her dick' (if she had one) while performing on stage. During her interview with Harvey, Mo'Nique said she shouldn't be punished for taking a stand.
She's only seeking what's fair.
In addition to her beef with the aforementioned trio, Mo'Nique is currently boycotting Netflix because they offered her a measly $500,000 for a stand-up comedy special after giving $13 million to Amy Poehler and $20 million apiece to Chris Rock and Dave Chappelle.
To Mo'Nique, it's not the money, but the principle that's most important.
"I got labeled as 'difficult' because I said one word — and that was 'no,'" Mo'Nique said.
"Now, I said 'no' to some very powerful people…" 
"But the difficulty came when people that looked like me, like Oprah, Tyler, Lee Daniels, and I got to put my brother Steve on the list. Ya'll knew that I wasn't wrong. Each of you said to me, 'Mo'Nique, you're not wrong. And when I heard you go on the air and say, 'My sister burned too many bridges, and it's nothing I can do for her now,' Steve, do you know how hurt I was?"
Harvey lambasted Mo'Nique's contretemps by suggesting she push integrity to the side and start kissing ass to make ends meet; even if it entails being a little fake and synthetic. "When you tell the truth, you have to deal with the repercussions of the truth," Harvey explained.
"We black out here."
"We can't come out here and do it any way we want to… This is the money game. This ain't a black man's game, this ain't a white man's game. This is the money game!"
A visibly agitated Mo'Nique fired back.
"Before the money game, it's called the integrity game," she said.
"And we've lost the integrity worrying about the money."
Harvey then broke it down from a dollars and cents perspective.
"If I crumble, my children crumble, my grandchildren crumble," he said.
"I can not for the sake of my integrity, stand up here, and let everybody that's counting on me, crumble so that I can make a statement."
"There are ways to win the war in a different way."
Shortly after the interview, Harvey took a savage beating on Twitter.
"Sister Sister" star Jackee Harry wrote: "Clearly, Steve Harvey is not a life coach. The value one places on their integrity is the exact cost it takes to be fake."
One fan wrote: "Steve Harvey is a coward. I'm disgusted. Mo'Nique sat up there and championed integrity, and he argued integrity for money and people applauded."
Another fan wrote: "Steve Harvey telling Mo'Nique to choose money over integrity, makes me think of all the women who are told to endure sexual harassment and assault in the workplace, because it's 'the world we live in.'"
What's your take?
Does earning a paycheck take precedence over integrity?
Do you agree with Harvey or Mo'Nique?
Share your thoughts below.