Tisha jettisons restraining order.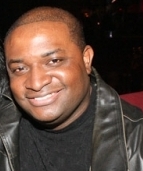 Blog King, Mass Appeal
LOS ANGELES — Former "Martin" star Tisha Campbell-Martin has jettisoned her restraining order against estranged husband Duane Martin because she feels it impedes their capability to co-parent. The Hollywood couple appeared in divorce court last week where Tisha filed the backpedaling requisition. The 50-year-old actress told the judge she still harbors trepidation when it comes to her disputatious hubby. But the restraining order, which mandates Duane stay 100 yards away, made it onerous to attend the same activities for their sons.
She is, however, still seeking spousal support.
In case you didn't know, Tisha filed a protective order last month. When asked what happened, Tisha told police a belligerent Duane "grabbed me by my arm to try to get me in the bedroom." She also claims her 53-year-old spouse whupped her ass multiple times since they got hitched in 1996.
Duane, who's also an actor, denies the allegations.
Filing grievances against touchy-feely negroes is nothing new to Tisha. If you recall, the light-skin broad filed a sexual harassment lawsuit against co-star Martin Lawrence in 1997, accusing him of groping her ass and fondling her embonpoint while performing on set. Tisha's spiel was 100% credible because, during that time, Martin was a junkie with severe psychological issues.
First, he was jailed for punching a nightclub patron. Then he ran into the middle of the street and started cussin' out random drivers. Then he was put on probation for concealing a loaded firearm. Then he got served divorce papers for treating his wife Patricia like a piece of excrement.
Martin seems to be in his right frame of mind as of late.
But that nanoscopic negro was mucho loco in the mid-90s.
Tisha certainly did the right thing by abandoning the show.
Sounds like she's justified in ditching Duane too.
Share your thoughts below.