R. Kelly charged with 10 felonies.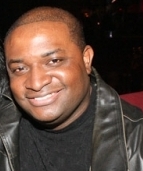 Blog King, Mass Appeal
CHICAGO — "When a woman's fed up…" On Friday, the Cook County State Attorney charged R&B icon R. Kelly with 10 felony counts of aggravated criminal sexual abuse involving a quartet of young girls between the ages of 13 and 16 years old.  One of the victims is tied to four counts. Each charge carries a sentence of 3 to 7 years in prison. According to court docs, Kelly allegedly had oral and vaginal sex with at least one of the girls and he "transmitted his semen onto [the alleged victim's] body for the purpose of Robert Kelly's or [the alleged victim's] sexual gratification or arousal, by the use of force or threat of force."
Kelly's indictment comes on the heels of last week's grand jury hearing that included the testimonials of a dozen women. On Thursday, Latresa Scaff and  Rochelle Washington joined attorney Gloria Allred at a press conference in New York and commenced to singin' like a canary.
Kelly hand-picked both chicks out of the crowd at a Baltimore after-party in the mid-90s. Latresa and Rochelle, who were 16 and 15 at the time, said Kelly approached them with his dick hanging out of his pants. Apparently no foreplay was needed. Kelly's phallus was locked, loaded and ready to shoot.
"When Kelly was alone with me, he asked me to perform oral sex on him," Latresa told reporters. "I was under the influence of marijuana and alcohol and I did it. He then had sexual intercourse with me even though I did not have the capacity to [give] consent."
There's also visual evidence in the form of a VHS sex tape that was turned over to authorities by attorney Michael Avenatti. The video shows Kelly having sex with a 14-year-old.
The 52-year-old pedophile turned himself in Friday night.
He was encircled by his entourage and refused to answer questions.
One journalist asked, "What's your message to black women?"
Another yelled, "Are you innocent?"
When you take into account infelicitous incidents involving Kelly, Jussie Smollett and Clark Gable, it's probably safe to conclude it's been a lamentable 'Black History Month.' Yes, I'm calling Clark "black" because pretty much everybody on "Cheaters" is African American.
Share your thoughts below.