Old man & black chick duke it out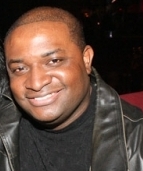 Blog King, Mass Appeal
HUNTSVILLE — How's this for a crabby mood? John Chapman and Chequita Jenkins were both thrown in jail last Friday for, get this: fighting over crab legs. The seafood bout of fisticuffs transpired at the Meteor Buffet in Huntsville, Alabama. That's where John (an elderly white man) and Chequita (a truculent black chick) waited 20 minutes for a fresh batch of crab legs. When they finally came out, John and Chequita acted like a pair of ravenous Ethiopians.
"They'd been waiting there for crab legs for a good 10, 20 minutes," said Huntsville police officer Gerald Johnson who was dining at the bistro when the donnybrook took place. "There's a woman who's beating a man. People are moving around, plates are shattering everywhere."
Chequita beat the hell out of poor John who suffered a laceration on his bald scalp. Both were arrested. Chequita faces one count of third-degree assault. John is charged with disorderly conduct.
Unfortunately, Chequita's kids witnessed the melee.
That said… if you ever decide to patronize the southern buffet, the cost is $10.58 per plate.
Just remember to bring brass knuckles and a first aid kit.
ANGRY WOMAN ARRESTED AT MCDONALD'S OVER APPLE PIE: "Ba Da Ba Ba Ba, I'm Loving It!" It's been a rough week for McDonald's. First, Jasmine Burress got stabbed in the head after quarreling over a spot in the drive-thru line. Now we've learned 32-year-old Ana Luisa Guity-Baltazar was thrown in jail over a damn apple pie. Here's what went down: Ana pulled into McDonald's drive-thru at 4112 Highway 278 in Covington, Georgia — seeking an apple pie. So far, so good. After being told it would take 5 minutes to prepare, Ana became pissed. When the female cashier requested payment, Ana insisted she receive a complimentary dessert due to an extended wait. When management rebuffed her behest, Ana went off.
Covington police officer Justin Stott said the 32-year-old damsel exited her black Nissan and started "screaming and using profanity at the employee, aggressively walking toward her, punching her fist into her hand." Ana told the cashier "if I pay for a fuckin' pie that means I get my money back!" 
Ana was arrested and charged with disorderly conduct. She was also issued a reprimand for trespassing. To add insult to finance… instead of paying $1.06 for a fresh apple pie, Ana is now responsible for satisfying a police citation of $837.00 plus court costs.
It's considered the most expensive apple pie in McDonald's history.
In Ana's defense, yours truly stopped going to McDonald's because they do have an annoying habit of making you wait. For instance, I'd pull into drive-thru and order a meal. Next, I'll proceed to the first window and pay. Then I'll reach the final window only to hear "we're sorry, your fries aren't ready, it'll be another 3 to 4 minutes, can you please pull over?" 
I'm like "why didn't you say that shit before I paid my money?"
Isn't it supposed to be fast food?
Anyway, watch the videos below.
Share your thoughts.