Woman makes football history.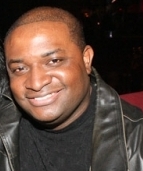 Blog King, Mass Appeal
DETROIT — She's in the history books. Toni Harris, a diminutive defensive back with huge NFL dreams, just became the first woman to garner a non-kicking football scholarship. On Tuesday, the 5-foot-7, 130-pound safety signed a letter of intent with Central Methodist University — an NAIA school in Fayette, Missouri. "It feels super amazing and it's been a long time coming," said Toni. "It's overwhelming but I feel blessed to be in this position." Toni, if you recall, was featured in Toyota's Super Bowl ad a few weeks ago.
The extra publicity certainly paid off. The 22-year-old damsel was heavily recruited, receiving several scholarship offers before choosing Central Methodist. "I always try to push myself every single day and keep my faith in God to let me go as far as I want to go," she said.
Toni's peregrination, however, hasn't been smooth.
She was diagnosed with ovarian cancer when she was 18.
"I had a tumor inside of my stomach," she said.
Toni, a Detroit native, also has skeptics.
Many have told her to quit.
"I had a coach tell me before that I would never get to the next level because I was a lot smaller and not as fast as the other guys. So that moment taught me to never give up," Toni said. "From that moment, I told myself no one's ever going to decide what I am going to do with my life."
"That's my decision."
Toni's mom, Uriia Jones, said her daughter can compete with men "if she puts her mind to it."
Fox Sports analyst Jason Whitlock said Toni could get seriously hurt.
What's my take?
Well, Toni's attractive so hopefully the fellas will take it easy on her.
Keep in mind, football players typically pat each other on the ass after a good play. Trust me, Toni will receive plenty of those. Also, in addition to concocting gridiron history, Toni will become the first woman to get hit by a man and he won't go to jail.
Should women be allowed to play men's football?
Share your thoughts below.