Uncle Norvel left fantastic legacy.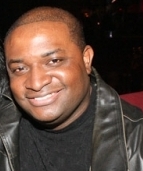 Blog King, Mass Appeal
KANSAS CITY — Let's convey a heavenly shout-out to Uncle Norvel Daniels who migrated to that great Pentecostal in the sky. The convivial Deacon was a youthful 85. We celebrated Uncle Norvel's home-going Saturday afternoon with an exuberant ceremony at Memorial International. The turnout was great. Apostle Larry Aiken and his wife threw down. The choir had us singing and dancing in the aisles. And family members articulated sparkling orations to reflect on Norvel's life.
Two in particular stood out:
1) The Brothers Daniels recalled some hilarious childhood tales from their memorable days on a plantation. And, 2) Aunt Sarah shared an intimate story about her private moment with Uncle Norvel during his final hour when he told her, "I'm ready to take this journey."
Powerful stuff.
Personally, my favorite memory of Uncle Norvel is recounted by many, which is: he never got mad. I'm serious. Nobody, including yours truly, has ever seen him indignant. To this day, I don't know how he did it. Heck, you can tell if I'm jovial or exasperated as soon as you open this blog.
Uncle Norvel was different.
He was silky.
He was serene.
His middle name should've been "tranquility."
He dressed like a GQ debonair.
To be candid, I tried to pattern my wardrobe off of his.
As we drove to Saturday's memorial, I told my mom "there's only a handful of good people in the world, and he's one of 'em." Then, as the proverbial cherry on top, I learned Uncle Norvel walked my beautiful mother down the marital aisle before she said "I do" to my father.
That's the type of classy guy he was, is and forever will be.
RIP Uncle Norvel, 1934-2019.
You're gone but not forgotten.
See the photo gallery below: