SNL posse had viewers in tears.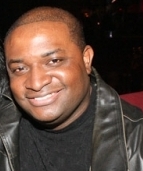 Blog King, Mass Appeal
NEW YORK — "My mind's tellin' me no, but my body, my body's tellin' me yes." Just hours after R. Kelly was released from jail, the cast of Saturday Night Live savored a few laughs at his expense. Comedians Keenan Thompson, 40, and Leslie Jones, 51, re-enacted Kelly's vacuous television interview with CBS news anchor Gayle King. The SNL skit poked fun at Kelly's idée fixe with underage girls and his inability to pay $161,633 in back child support. Kelly's illiteracy and crybaby subterfuge were also put on blast.
The 52-year-old pedophile was thrown behind bars on Wednesday, the same day his CBS interview aired. The destitute rascal satisfied his child support obligation Saturday morning, resulting in his emancipation. Kelly walked out the jailhouse front entrance amid deafening screams from a legion of female fans. "I promise, we're gonna straighten all this out," Kelly told his supporters.
"That's all I can say right now. I love my fans."
One lady reached out for Kelly and yelled, "Please touch my hand!"
Yuck!
That's nasty.
Ain't no telling what he did with those fingers while in lockdown.
Watch the hilarious SNL skit.
Share your thoughts.