Man finds third Kelly sex tape.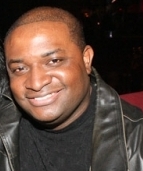 Blog King, Mass Appeal
NEW YORK — While cleaning out an old collection of VHS tapes inside his basement closet, Gary Dennis — a black nursing home assistant — stumbled across some pornographic footage that shows a man (who appears to be R. Kelly) sexually abusing a coterie of underage girls. Gary, who said he was "disgusted" by what he observed, turned the tape over to the cops. He also hired man-eating barrister Gloria Allred to represent him because…. he's gonna sue Kelly too. Gloria and Gary held a press conference shortly after the video was discovered. It's the 3rd sex tape featuring Kelly to go public.
Kelly, who's already facing 10 felony counts of aggravated sexual abuse, "denies that he is on any tape with underaged girls." His lawyer, Steve Greenberg, backed his elucidation. "The doubt here is self-evident, with reporting that the man on the tape kinda, sorta looks like R. Kelly," Greenberg said.
"That doesn't make it him. It is not him."
Even Allred acknowledged she's not "100 percent certain" that's Kelly in the video.
Ok, so how did we get here? After finding the tape, Gary decided to descry its footage. He initially thought it contained concert performances. But… as soon as he hit the play button, there was nothin' but ass and boobs everywhere. The man, believed to be Kelly, also barked mandates on how to blow a penis.
"I was disgusted and horrified when I saw that," Gary said. "To my shock and surprise, R. Kelly appeared to be on tape, but not in concert. Instead, he was sexually abusing underaged African-American girls."
Gary said he's not sure how the tape got inside his house. When asked how he knew the girls were juvenile, Gary basically said their derrières and breasts weren't fully developed. Gary's spiel is eerily homogeneous to the bullshit Jussie Smollett regurgitated a few weeks ago.
Think about it. A nursing home assistant just happens to clean out his closet and locates a video of R. Kelly urinating on little girls. Does that sound credible to you?
Hell, maybe we should check our closets?
Share your thoughts below.