Shaq tries Kansas sauce & flips out.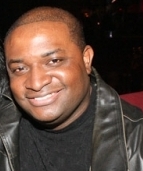 Blog King, Mass Appeal
NEW YORK — During an appearance on YouTube's "First We Feast," NBA legend Shaquille O'Neal tried a sample of various hot sauces including "Da'Bomb Beyond Insanity" condiment from Original Juan in Kansas City, Kansas. All hell broke loose at the 18 minute mark. "Kansas don't know how to do no hot wings," an hubristic Shaq told host Sean Evans before dipping his bird into the scorching sauce. Three seconds later, Shaq was forced to eat his own words… literally.
The sauce was so searing, the 47-year-old baller immediately grabbed a gallon of milk and commenced to guzzling to cool off his throat. "I apologize Kansas," he said. Shaq then expectorated into a small trash can. "You're a fucking liar," Shaq told Sean as he tried to catch his breath.
"You're  a fucking liar!"
Moral of the story?
Don't fuck with Kansas.
Watch the hilarious video!
Share your thoughts.