Season two done, third's coming up.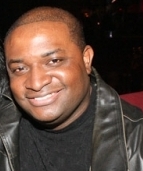 Blog King, Mass Appeal
BURBANK, Cali — Monday night's season two finale of "Black Lightning" was as good as advertised. The 16th and final episode of the popular DC Comics series closed the book on its sophomore campaign with a stupendous power skirmish between Black Lightning's kinship and a cadre of malevolent meta-humans set free by longtime adversary Tobias Whale (Marvin "Krondon" Jones). The bout of fisticuffs transpired on the caliginous streets of Freeland after Tobias sabotaged the city's power grid — suppressing the source of Black Lightning's electricity. The ploy worked at first.
However, with a little succor from occult daughters Jennifer (China Anne McClain) and Anissa (Nafessa Williams), the 48-year-old superhero was able to recharge, kick ass and take names. Speaking of Tobias… the albino supervillain was nearly electrocuted to death by Jennifer. She fried his ass.
Realizing his baby girl was out to avenge the murder of her boyfriend Khalil, Black Lightning (Cress Williams) was able to intervene just in time to keep Tobias alive. As the show came to a melodramatic close, we learned Khalil's cadaver is being preserved inside a pod for scientific research.
So there's a chance he'll be resurrected in season three this fall.
Super cool! I thought we'd seen the last of Khalil after Tobias ripped his spine out.
You can catch reruns of "Black Lightning" on Netflix.
The third installment is already on the radar.
Share your thoughts below.