Queer Eye joins "Jones Bar-B-Q."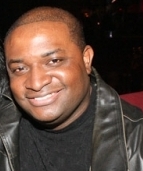 Blog King, Mass Appeal
KANSAS CITY,Kan. — It's season three of the popular Nexflix series "Queer Eye" and, in the third episode, the Fab Five made the trek to Jones Bar-B-Q, 6706 Kaw Drive, in Kansas City, Kan., to proffer succor to sisters Mary "Little" Jones and Deborah "Shorty" Jones. In the aftermath of their father's quietus, the 2nd generation pitmasters seized ownership of the family métier and they've been in charge for 40 years. They typically serve a long line of ravenous patrons between their business hours of 11 a.m. to 3 p.m., Tuesday-Saturday.
So, what type of modifications took place?
Realizing a makeover was imperative, design guru Bobby Berk stayed behind to refurbish the eatery by concocting upgrades to the kitchen, storefront and patio. Meanwhile, Antoni Porowski and Karamo Brown steered the siblings to a facility where they were able to bottle their classic barbecue sauce.
"It's been overwhelming, I'll put it that way," Deborah said of the Queer Eye experience. "But it's been nice. I'm not complaining because it's really done well for the business." She's right. The transformation paid immediate dividends as the riblet honchos succeeded in selling their signature condiment.
"As of yesterday morning, we sold 11,000 bottles [of BBQ sauce]," the sisters wrote in an Instagram post. "We averaged 1.7 bottles per minute this weekend. We are feeling so much love and support from all of you. THANK YOU to everyone who ordered a bottle. Your support means so much to us!"
"To all our friends from around the world asking for our sauce, we hear you!"
"It is one of our goals to start shipping internationally soon."
The sauce can be purchased on the restaurant's website at JonesBBQKC.com.
Major congrats to the Queens of BBQ!
Share your thoughts below.