Pastor killed by jilted mistress.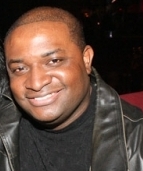 Blog King, Mass Appeal
COLLIERVILLE — "If I can't have you…" Latoshia Daniels, 39, will spend some time in the slammer after the jilted damsel shot and killed Reverend Brodes Perry because he refused to divorce his wife. The sanguinary ordeal went down April 4th inside the reverend's apartment in Collierville, Tennessee. Brodes served as Executive Pastor at Mississippi Boulevard Christian Church. Latoshia, a licensed social worker, is believed to be his mistress… and get this: she specializes in domestic violence and anger management. According to police reports, Latoshia showed up at the pastor's crib around 10:00 p.m. wanting to talk. Brodes was gone, but his wife let her in.
After a 30-minute confabulation, Brodes finally brought his fornicating ass home. Latoshia stayed and talked for another 10 minutes before she started to leave. As she was being escorted to the front door, Latoshia pulled out a handgun and emptied the clip.
The trigger-happy babe shot Brodes multiple times while saying, "You broke my heart."
Latoshia then shot the wife in the shoulder as she tried to check on her dying husband. "Get out the way!" she yelled. A neighbor heard the commotion and called 911. Brodes suffered multiple gunshot wounds to the cranium and torso. He died instantly.
PASTOR MURDER: According to Psychology Today, Latoshia Daniels, specializes in "Domestic Violence & Anger Management."

The Little Rock woman is accused of killing Broders Perry, Assistant Pastor at Memphis-area church. Police say she yelled, "you broke my heart" as she shot him. pic.twitter.com/hqOgPDjBcl

— Winnie Wright (@WinnieWrightTV) April 9, 2019
Moments later, law enforcement officials showed up and ordered Latoshia to drop her weapon. But, she shunned their behest so they shot her. Don't worry. She lived. This b*tch is indomitable, sort of like the Terminator. Nevertheless… after receiving medical succor at an area hospital, Latoshia jumped out of bed, shoved a police officer, then ran down the hallway.
She was eventually captured. But the bellicose chick started swinging on a cop before getting thrown to the ground. Latoshia was arrested and charged with first-degree murder, attempted first-degree murder, possession of a firearm, assault on a police officer, and resisting arrest.
The pastor's wife received treatment at a different facility and a full recovery is expected.
Moral of the story?
Keep your banana and two apples in the fruit bowl.
Share your thoughts below.