Kevin Hart used very poor taste.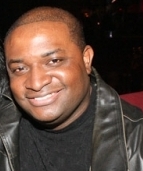 Blog King, Mass Appeal
LONDON — In January, Kevin Hart shunned his responsibilities to host the Oscar Awards after his homophobic tweets resurfaced. Now the diminutive comic is drawing opprobrium for a series of controversial boffolas in his latest Netflix stand up special "Kevin Hart: Irresponsible." The comedy show was recorded live in front of a sellout crowd in London. Kevin spends the majority of the one hour performance recounting dissolute stories of impetuous amour and parental vexation.
For instance, Kevin said kids are "stupid" and he spewed a wisecrack about flipping off his own toddler before telling the kid "fuck you!" He also bragged about choking his teenage son over a cell phone.
Man, it takes big cojones to joke about child abuse.
Kevin, who's in his second marriage, did confess to cheating on his current wife — Eniko Parrish — in Las Vegas. But, instead of being compunctious, he prefaced the divulgence with, "This time I fucked up, but I don't like it when people act like you planned to fuck up …. the important thing is to learn from your fuckups."
Huh?
Kevin later exacerbated the tribulation by joking about how irksome it is to have to win back Eniko's trust. "When you try to fight for your woman to feel secure, you end up feeling insecure as a man," he quipped. "You're questioning yourself."
What do you *actually* need after a long day at work?? A good dose of @kevinhart4real's new special 'Irresponsible,' now streaming. pic.twitter.com/4fbmX1TShd

— Netflix Is A Joke (@NetflixIsAJoke) April 2, 2019
Then, as the risqué cherry on top, Kevin said he expectorated on Eniko's countenance during sex to mimic what he once descried in a pornographic video. After she cussed him out in retaliation, Kevin said he felt uncomfortable giving her an elucidation – telling the audience, "What did I tell you guys? I don't like to talk, let it float in the air and disappear. I don't like to talk about it."
Contrary to his ex-wife's opinion, Kevin said he's not culpable for the collapse of his first marriage. Instead, the 39-year-old humorist gave the insinuation Torrei Hart screwed things up. "I want to make it clear to everybody that in my first marriage I did not fuck up," Kevin explained. "I filed for divorce, which means I chose to leave, which means I made a better decision for me in my life."
Kevin Hart's Irresponsible is now available on Netflix.
Many viewers thought he gave a banal performance.
Share your thoughts below.