Homophobe drills transgender chick.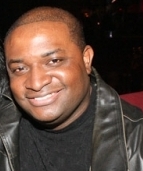 Blog King, Mass Appeal
DALLAS — Edward Thomas is busy putrefying behind bars after the 29-year-old homophobe beat the sh*t out of Muhlaysia Booker — a black transgender woman — in broad daylight. The sanguinary ordeal, which was captured on video, took place Friday afternoon in Dallas, Texas. According to police reports, Muhlaysia got entangled in a traffic accident at a ghetto apartment complex just south of downtown Dallas. As the ensuing donnybrook intensified, Edward and his clique gave the truculent tranny a Rodney King-type ass whuppin' in front of a bellicose audience.
Muhlaysia Bookers is a Black trans woman who survived horrific mob violence last week. A local group are trying to raise 7k for her as she recovers. They're at 5.3k. Let's at least double it: https://t.co/dbBis3TPPN

— Eliel Cruz (@elielcruz) April 18, 2019
Raw video footage shows Edward slamming the pink-haired transvestite to the pavement before treating her countenance like a punching bag. A staggered Muhlaysia was later helped to her feet by a group of female observers before being escorted to safety. The redbone he-she was wearing a crop top and booty shorts. She suffered facial fractures and a broken arm.
Law enforcement officials arrived moments later.
Dallas Mayor Mike Rawlings labeled the attack "mob violence" against a transgender woman. "Those who did this do not represent how Dallasites feel about our thriving LGBTQ community," Rawlings said. "We will not stand for this kind of behavior." Police said they're investigating the matter as a hate crime.
Edward was arrested and charged with aggravated assault.
Watch the shocking video.
Share your thoughts below.