Taye Diggs makes scholastic impact.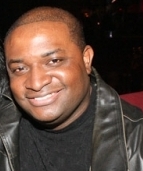 Blog King, Mass Appeal
KANSAS CITY — "Empire" actor Taye Diggs was in Kansas City on Saturday for Literacy KC's 'Let's Read!' jamboree — a celebration of family literacy. Diggs, 48, was joined by Kansas City illustrator Shane Evans to disseminate the significance of having positive role models in the hood. "As fathers ourselves, we realize the importance of this," Diggs said. "And we are very excited to come spread the word, and help in any way." Hundreds of kids packed UMKC's Pierson Auditorium along with parents, teachers and librarians.
"It's just magical to see an author, to see an illustrator, right in front of you," said Literacy LC executive director Gillian Helm. "Especially someone so magical, and so artistic, and creative as Taye and Shane. To have them here in front of them is just a special opportunity for kids."
Taye Diggs, Shane W. Evans meet with kids for Literacy KC event https://t.co/DYV5YtsJ3E pic.twitter.com/3IYCmLkRfc

— FOX4 News (@fox4kc) April 28, 2019
Diggs and Evans signed a few books then proceeded to help the children concoct a trio of colorful publications while confabulating on sensitive issues tied to race and gender equality. "We want them to have a good time," Diggs said. "Obviously, we want them to be inspired to read, but it's kind of an energy thing, and whatever anybody takes from it — we'll accept that."
Diggs and Evans also read their signature storybook "Chocolate Me" — a hardback that illustrates the beauty of blackness and finding tranquility within your own skin. Some have called it racist. "I think it's important for all people alike to be able to relate to the characters they're reading about," Diggs said.
"Simply because, they can see themselves, and it gives them… a mirror effect. It's much easier to kind of understand and relate to characters that have similarities to ourselves."
For more information on this program, visit LiteracyKC.org.