Woman kills old passenger on bus.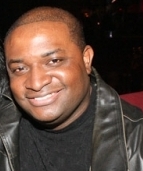 Blog King, Mass Appeal
LAS VEGAS — When public transportation goes terribly wrong. Cadesha Bishop had her choleric ass thrown in jail after she killed a 74-year-old white man for, get this: He told her to start being "nicer" to people. The ghastly incident transpired March 21st on a bus in Las Vegas. The entire ordeal was captured on video. According to police reports, Cadesha was busy shouting a bunch of obscenities as Serge Fournier prepared to effectuate an egress. As he grabbed his walker and proceeded down the aisle, the old man implored Cadesha to start being "nicer to the passengers."
The 25-year-old meshuga then pushed Serge off the bus, causing him to hit his head on the sidewalk. The elderly victim initially declined medical treatment. But he checked himself into the hospital later that night. Serge died a month later. Raw footage shows Cadesha shove him with both hands.
The autopsy later revealed blunt force torso injuries as the cause of death.
Cadesha was arrested May 6th and charged with murder.
Watch the disturbing video.
Share your thoughts below.