Wilson gave mom the ultimate gift.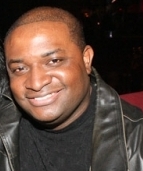 Blog King, Mass Appeal
SEATTLE — Flower bouquets are nice. But Russell Wilson's benefaction stole the show on Mother's Day. That Al B. Sure-lookin' negro made us all look bad. Check this out: The Seattle Seahawks quarterback, who recently signed a 4-year deal worth $140 million, blindsided his mother Tammy on Sunday with the deed and title to a new house. Here's what went down: Russ and his wife Ciara pretended to be owners of the home. That's when the 30-year-old signal caller handed Tammy a key ring, sparking a priceless reaction.
"What's this for?" Tammy asked her son. Russ replied: "It's the key to your new house." At first, Tammy thought he was foolin' around. But, once she realized he was serious, all euphoria broke loose.
Tammy almost pee'd her dress.
"It's your house, open the door!" Russ said.
"You lyin'. Are you serious?" Tammy screamed.
"No, are you serious? For real?… That's not funny! No, no, no y'all lyin'!"
Russell Wilson surprised his mom with a new house on Mother's Day.

Her reaction 😭

(via @DangeRussWilson) pic.twitter.com/C7XOFv9qLG

— Bleacher Report (@BleacherReport) May 13, 2019
Russ then gave Tammy a hug and thanked her for being the world's greatest mom. "All these years you have never asked me for anything… only thing you ever wanted is for me to LOVE," Russ tweeted afterwards. "Well thanks for loving us the way you do. This ones for you."
"I love you momma."
"#HappyMothersDay #GodIsGood."
Ciara added, "What a beautiful day and moment. Tears of Joy!"
"The perfect Mother's Day. God you're a good good father."
Since inking his third contract a few days ago, Russ has been quite generous. In addition to buying his mama a new house, he also purchased $156,000 in Amazon stock for his offensive linemen.
Can't hate, dude has ample class.
His peers can learn a lot from him.
Share your thoughts.