Tyrann Mathieu extored by family.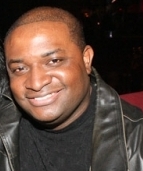 Blog King, Mass Appeal
NEW ORLEANS — Here's another reason to remain skeptical of family members when you run into money: Geourvon Sears was thrown behind bars after he tried to extort millions of dollars from Kansas City Chiefs safety Tyrann "Honey Badger" Mathieu. Sears is a distant relative of Mathieu who recently inked a lucrative 3-year deal with the Chiefs for $42 million. According to court docs, Mathieu was in Kansas City minding his own damn business when he received a phone call from Sears who's in New Orleans.
During their convo, Sears allegedly told Mathieu it's imperative he deposit $1.5 million into his bank account by Friday or he'll disclose incriminating evidence of sexual misconduct against the new Chiefs star. Mathieu immediately hung up the phone and blocked the number.
Realizing he was blocked, Sears disseminated a group text to Mathieu's associates that reads:
"5 million by Friday, I'm done talking, emailing TMZ now."
Family member tried to extort NFL star Tyrann Mathieu for $5 million over sexual misconduct claims, court documents show. https://t.co/jBKhfFTf6d pic.twitter.com/Sja1A9hryp

— ABC News (@ABC) May 22, 2019
Then, as the straw that broke the camel's back, Sears transmitted a voice memo threatening bodily harm to Mathieu and his family. "I want $1.5 million by Friday or I'm going to kill you all," Sears said. Shortly after concluding their investigation, police threw Sears' black ass in jail.
He's now out on bond.
As for Honey Badger? He's doing alright. Most importantly, he gets to keep his money. "He's dealing with a family member who is dealing with a mental health issue," said Denise White, Mathieu's agent. "Tyrann is fine. His family is fine. They are getting through."
Share your thoughts below.