Marlon Wayans defends gay kid.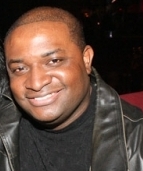 Blog King, Mass Appeal
NEW YORK — Macilent comic Marlon Wayans has a homosexual daughter, and he's already sick and tired of defending her sexual predilection. Amai, 19, is officially out the closet and, in honor of gay pride month, Marlon disseminated a panegyric dispatch on Instagram to show the teen lesbo some familial support. "Happy pride to my pride and joy," Marlon wrote. "I wouldn't change one effing thing about you. Love you to the moon, around the sun, through the galaxies, and back again."
MARLON WAYANS SUPPORTS HIS TEENAGE DAUGHTER, AMAI WAYANS, WITH 'PRIDE' https://t.co/btrSkpNHC2 pic.twitter.com/rabeiOYcKo

— DeepFind (@DeepFinds) June 4, 2019
Marlon's galactic communiqué contains a caption with a snapshot of Amai in a sedentary pose showing off the rainbow-colored soles of her gay sneakers. Homophobes and disapproving fans shared their reactions. One user wrote Amai is "not old enough to understand what [homosexuality] is really about," drawing Marlon's ire. "She's 19," the 46-year-old comedian wrote.
"She's who she is until or until she don't choose different."
"I love her for her, not what I want her to be."
"We all will some day get to unconditional love," Marlon continued.
"Because of my daughter, I am one step closer. I am not God. I don't judge, I just love."
"And pray for the haters because I refuse to judge them too."
Amai joins a lengthy list of gay celebrity children which includes Dwyane Wade's 12-year-old son Zion and Magic Johnson's 27-year-old son EJ. Are you ok with Amai's sexual preference? Is she too young to make a gender-related decision? Is it fair to objurgate the LGBTQ community?
Share your thoughts below.