Geto boys rapper dead from cancer.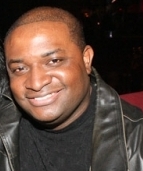 Blog King, Mass Appeal
HOUSTON — Unfortunately, our minds aren't playing tricks on us. It's confirmed. Bushwick Bill, the diminutive member of Houston rap trio "The Geto Boys," passed away Sunday night amid complications from stage 4 pancreatic cancer. The Jamaican-born artist was 52. Several media outlets reported Bushwick died earlier that morning. Those circulations, however, were spurious. "Bushwick Bill passed away peacefully this evening at 9:35 p.m. He was surrounded by his immediate family," said Dawn P., Bushwick's publicist.
"There were incorrect previous reports that he had passed away this morning. We are looking into doing a public memorial at a later date. His family appreciates all of the prayers and support and are asking for privacy at this time."
After false reports of his death over the weekend, Bushwick Bill's publicist has confirmed the Geto Boys rapper died Sunday evening at the age of 52 https://t.co/Se7MrSL5bc pic.twitter.com/8D6sPzwZ1L

— Pitchfork (@pitchfork) June 10, 2019
Bushwick (legal name Richard Shaw) learned he had the baneful sarcoma on February 8th when doctors discovered a malignancy on his pancreas. Rather than render the disquieting news confidential, Bushwick went the privy route during a chinwag with TMZ.
"I figure keeping it to myself is not really helping nobody, and I'm not really afraid of dying because if anyone knows anything about me from [his 1992 song] 'Ever So Clear,' I died and came back already in June 1991, so I know what it's like on the other side," said the 3-foot-8 rapper.
In June 1991, Bushwick accidentally shot himself in the right eye following a donnybrook with his girlfriend. He admitted being under the influence of PCP and Everclear alcohol at the time.
Bushwick is survived by his son Javon Boutte.
RIP lil homie.
Share your thoughts below.