Sibling rivalry breeds arrest.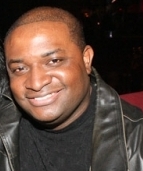 Blog King, Mass Appeal
FORT WORTH — Savvy Smith, 33, was recently captured and thrown in jail after she steamrolled her big sister multiple times with a sports utility vehicle. The vehicular assault went down outside their mother's residence on May 30th in Fort Worth, Texas. According to police reports, Savvy and 36-year-old Kisha Johnson got into an argument. Seconds later, Savvy snatched a picture frame and chucked it — striking Kisha in the face. Their mother, Darlene Brown, ordered Savvy to take her baby and leave. That's when the unfathomable transpired.
"Kisha said she was going to call the police and ran outside to get the license plate number of her sister's vehicle," Darlene said. "By then, [Savvy] was in the SUV, put it in reverse and just floored it." Kisha, who was standing behind the SUV, got hit then dragged into the street.
'I saw her back over and over her,' mother says after daughter in SUV ran over older sister, Kisha Johnson. Johnson was critically injured in incident: @fortworthpd #Readlocalhttps://t.co/yvapiXVWtS pic.twitter.com/jaIK7NfZNv

— domingo ramirez jr. (@mingoramirezjr) June 5, 2019
Savvy proceeded to run over Kisha two to three times before speeding off. The inert damsel was transported to an area hospital with life-threatening injuries. Kisha suffered a fractured collarbone, cracked ribs, and a broken pelvis. After a three week hospital stay, she was finally released.
But Kisha is bound to a wheelchair and can't walk.
Savvy managed to elude police officers for several days prior to her arrest. She's charged with aggravated assault with a deadly weapon. "I'm thankful to God," Darlene told the Fort Worth Star-Telegram after learning Savvy was apprehended. "She needs to pay for what she did."
Investigators later learned the two sisters share a sibling rivalry that's lasted for years. But nothing physical has ever come of it until now. Kisha was a college student with aspirations of becoming a registered nurse. Savvy, according to sources, is a jaundiced drug addict with no goals and ambitions.
Still no word on if Kisha will ever walk again.
Share your thoughts below.