Cuba Gooding Jr. busted & charged.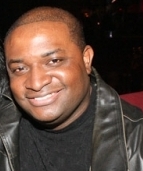 Blog King, Mass Appeal
NEW YORK — It was a forgettable Father's Day weekend for award-winning actor Cuba Gooding Jr. who was slapped with a criminal charge after he allegedly touched a white woman's breast at the Magic Hour Rooftop Bar and Lounge in Manhattan, New York. The alleged amorality went down late Sunday night and it was captured by TMZ on surveillance video. According to police reports, the Caucasian damsel called 911 claiming the Oscar winner groped her embonpoint without approbation. A warrant was issued.
Cuba was consequently handcuffed, fingerprinted and booked 24 hours later.
He also took a mugshot.
EXCLUSIVE: Surveillance Video Shows Cuba Gooding Jr. Put Hand on Accuser https://t.co/1elXM5EGkO

— TMZ (@TMZ) June 13, 2019
Mark Heller, Cuba's attorney, said there was "no inappropriate action whatsoever" despite video corroboration that suggests otherwise. Raw surveillance footage shows a drunken Cuba fondling the woman's chicken parts which includes her breast and thigh. The 51-year-old thespian is charged with one misdemeanor count of forcible touching.
Does Cuba deserve prosecution?
Is the incident overblown?
Are women too sensitive about their tits?
Watch the video and judge for yourself.