American Airlines pisses off doctor.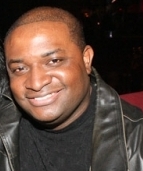 Blog King, Mass Appeal
MIAMI — "Won't you back that azz up!" Tisha Rowe — a sexy doctor from Houston, Texas — is seeking litigation against American Airlines after two black flight attendants told her to cover her big curvy ass or get off the plane. Their derrière behest transpired on June 30th as Tisha boarded a flight from Kingston, Jamaica to Miami, Florida. She had her 8-year-old son with her. According to reports, Tisha was pulled aside and given an ultimatum to either dress appropriately or forfeit her seat. The voluptuous damsel donned a revealing romper that showcased her chocolate epidermis and Coke bottle frame.
Attendant: "Do you have a jacket?"
Tisha: "No."
Attendant: "You cannot get on the plane dressed like that."
Tisha's kid: "Mommy, follow the rules." 
Rather than cause a scene, Tisha asked for a blanket and wrapped it around her ass — drawing gawps from nosy passengers as she walked down the aisle.
"I am, like, head down the whole time," Tisha recounted. "I don't want to see anybody's face. I'm embarrassed. I'm humiliated. I did not look up at even a single passenger."
In case you didn't know, American Airlines has a precept that mandates passengers "dress appropriately" which means no risqué raiments.
Tisha, however, said a white woman was allowed to board the plane despite wearing much smaller shorts. "If I, being Leticia Rowe, was a white woman in that same body suit, if they thought it's inappropriate, do I think they would have removed that white woman from the plane?" Tisha explained.
"Absolutely not."
Realizing they f*cked up, airline officials offered Tisha a refund coupled with a formal apology. "We were concerned about Dr. Rowe's comments, and reached out to her and our team at the Kingston airport to gather more information about what occurred," the company said in a statement.
"We apologize to Dr. Rowe and her son for their experience, and have fully refunded their travel. We are proud to serve customers of all backgrounds and are committed to providing a positive, safe, travel experience for everyone who flies with us."
Tisha accepted the apology.
But she's asking airline officials to revise their dress code enforcement.
After all…  having a curvaceous ass shouldn't jeopardize your flight, right?
Share your thoughts below.