Beckham confronts homosexual claim.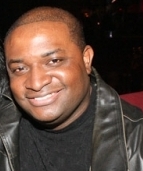 Blog King, Mass Appeal
NEW YORK — Amid wild speculation he's Liberace gay, Cleveland Browns wideout Odell Beckham Jr. did little to defuse the bavardage during a recent tell-all confabulation with GQ Magazine. Known for his big mouth and uncanny fashion, Beckham has been the target of gay rumors since his rookie season of 2014. The scuttlebutt hit fever pitch in 2015 when members of the Carolina Panthers barked a superfluity of homophobic slurs at him during a game. Here's excerpts of the GQ interview.
GQ: "There was a period of time when a lot of gossip sites — specifically black gossip sites — would constantly say that you were closeted. They'd call you 'excited' in a hot-tub photo with your teammates or simply just say you're gay. How'd that make you feel?"
Beckham: "I've never had an opportunity to talk about this. Honestly wasn't offended. I've never once had no problem with anybody who has their own personal life that they live. I have friends who are gay. It was almost more funny to me. I almost messed with them even more. It's like when someone gives me an ultimatum, I'm usually always going to go to the opposite way of what you want me to go. So when they would say that, I would almost mess with them even more. I have no problem with anyone's sexual orientation."
For GQ's August cover story, @obj spoke to @Mark_A_Green about The Catch, as well as everything else from his whirlwind NFL career to date https://t.co/YYbZ8UyjH4

— GQ Magazine (@GQMagazine) July 23, 2019
GQ: "I feel like posts like that only contribute to homophobia in the black community. The idea that someone must be gay — or that being gay is in any way shameful — because they're dancing or have blond hair seems so small-minded."
Beckham: "Or because they're 'close with other men.' Even like little videos where they see me leaned back or something, they'll say that I'm looking at a guy's ass. And I'm like, 'Bro! You don't even know where my mind is at.' It was just a lose-lose. They'd see me with a white woman and be like, 'Why don't you be with any sisters?' I have no problem with any race. Love is love. If you're attracted to somebody, you're attracted to somebody. There was such a stigma built up, as though I don't like my own women. It's like, no, I don't like anybody who annoys me."
What's your take?
Are you surprised he didn't repudiate being a homosexual?
Does that make him automatically gay?
Share your thoughts below.