Denali Berry on transgender list.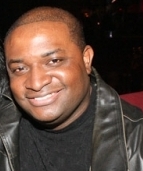 Blog King, Mass Appeal
CHARLESTON, SC — Another transgender bites the dust. Law enforcement officials in South Carolina are investigating the homicide of Denali "Berries" Stuckey (real name Derrick Hakeem Stuckey). Her cadaver was discovered last Saturday in North Charleston, South Carolina. "She was a free spirit. She was very outspoken," said her friend Ron'Rico Judon. "If you didn't like the fact that she was trans, she would give you a piece of her mind." Denali, a 29-year-old cosmetologist, is the 12th black he-she to lose his or her life in 2019.
The LGBTQ Community is understandably concerned.
The murders of Black trans women in America are a crisis. We must call it out and fight back, until everyone is free to be who they are without fear. Say her name: Denali Berries Stuckey. https://t.co/wXTAseFfio

— Elizabeth Warren (@ewarren) July 23, 2019
"I am heartbroken and outraged by the news of yet another murder of one of our transgender community members," said Chase Glenn, Executive Director of Alliance for Full Acceptance. "Denali is the third known black trans woman to have been murdered in South Carolina since 2018."
Denali's quietus was celebrated in a private memorial service. According to her obituary, she's survived by her mom, Andrea Stuckey, her dad Darrell Brown, grandmother Catherine Brown, godfather Barron Lee, and "a host of aunts, uncles, nieces, nephews and other relatives and many loving friends."
Are transgenders under attack?
Should Denali's death be ruled a hate crime?
Is it time for federal agents to get involved?
Share your thoughts below.