Reality TV bailiff murders his wife.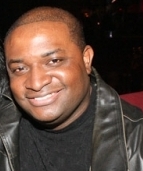 Blog King, Mass Appeal
HOUSTON — How's this for flippin' the script? Renard Spivey, the 63-year-old sheriff's deputy who served as a bailiff on the reality TV show "Justice For All with Judge Cristina Perez," was thrown behind bars after he allegedly murdered his wife because she wouldn't give up the derrière. The uxoricide went down around 3 a.m. Sunday morning inside the couple's home in Houston, Texas. According to court documents, Renard experienced a series of contretemps with his 52-year-old wife — Patricia Spivey.
The quarrel stemmed from Renard's sexual exasperation and steroid use.
In other words, he wanted some booty.
Renard Spivey, a sheriff's deputy in Texas who appeared on a popular TV show, has been charged with murder after his wife was found shot twice in their bedroom closet, according to the criminal complaint https://t.co/MlUV4Utonz

— CNN (@CNN) July 31, 2019
Moments later, Renard and Patricia got into a scuffle over a firearm. "We was arguing and tussling with the gun," Renard told investigators during the interrogation process. "We had been arguing all day." As the struggle intensified, the gun went off three times. Two bullets hit Patricia and another struck Renard.
The former didn't make it.
The latter suffered a gunshot wound to the leg.
Patricia's cadaver was found inside their bedroom closet.
Renard was arrested and charged with murder.
Those close to Patricia still can't believe she's gone. "She just loved life. Always smiling. Always loved photography. Loved to take pictures," said her brother, Ezra Washington. "I know where she's going. I know the life she lived. You know, she did well. Gone too soon but she did well."
Renard claims the shooting was an accident.
Do you believe him?
Share your thoughts below.