Simone made 'history' in KC.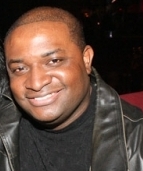 Blog King, Mass Appeal
KANSAS CITY, Mo. — Must be the barbecue. Simone "The GOAT" Biles rewrote the record books over the weekend during the U.S. Gymnastics Championships at Kansas City's Sprint Center. On Friday, the 22-year-old wunderkind became the first gymnast in Olympic history to attempt and land a double-double dismount off a high beam. The convoluted maneuver was comprised of a pair of twists coupled with two somersaults. Then, on Sunday afternoon, the five-time Olympic medalist became the first to ever land a triple-double.
That move involved two backflips and three twists while airborne.
Damn, that's insane.
That WINNING feeling. 😂@Simone_Biles' reaction tonight after winning her 6th #USGymChamps. #Tokyo2020 let's go! pic.twitter.com/EwOJXhEGzC

— Olympic Channel (@olympicchannel) August 12, 2019
Once the final act concluded, it didn't take the judges long to declare a winner. Simone claimed her 6th national championship with a ridiculous score of 118.500 — nearly 5 points more than second place finisher Sunisa Lee. Hell, it might be time for Simone to purchase a larger trophy case.
In addition to the aforementioned championships, she's won 14 world titles.
Next up for Simone is the 2020 Tokyo Olympics which she said will be her last.
Congratulations young lady on a job well done!
That Kansas City barbecue does wonders.