Tiffany Haddish shares spotlight.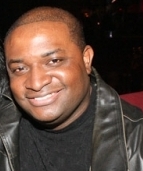 Blog King, Mass Appeal
HOLLYWOOD — Prior to her breakout role in the 2017 comedy "Girls Trip," Tiffany Haddish busted her ass in a daunting attempt to make it big in show business. Her perseverance eventually paid off. Tiffany is currently a costar on Tracy Morgan's TBS comedy "The Last O.G." She can been seen effectuating organized crime with Melissa McCarthy in the villainous mob drama "The Kitchen," and later this fall, she'll emcee CBS' restoration of "Kids Say the Darndest Things." Now that she's finally on top, the 39-year-old comedienne is giving a spotlight to her friends in the Netflix stand-up series "Tiffany Haddish Presents: They Ready."
The comedy special premiered on Tuesday and, in the words of Tiffany, promises to "make you pee just a little bit." In addition to hosting the show, Tiffany serves as executive producer alongside fellow comic Wanda Sykes. After garnering opprobrium for a paucity of diversity in their comedy specials, Netflix officials have augmented the platform to encompass mo' homosexuals and women of color.
They ready! Tiffany Haddish helms new show on Netflix: https://t.co/gVqjoAjhtp pic.twitter.com/87PORM6jlf

— The Root (@TheRoot) August 13, 2019
"They Ready" features a series of 30 minute performances from a sextet of funny ladies who've worked with Tiffany through the years. They are: gay comic Chaunté Wayans (MTV's "Wild 'N Out"), Caucasian farceur April Macie (NBC's "Last Comic Standing"), Tracey Ashley (TBS' "The Last O.G."), Puerto Rican joker Aida Rodriguez (Comedy Central's "This Week at the Comedy Cellar"), transgender humorist Flame Monroe ("Def Comedy Jam") and Compton native Marlo Williams (BET's "ComicView").
Before achieving comedic stardom, Tiffany made a promise to the aforementioned six. "Don't worry, when I make it, I'm gonna come back and get you and we're going to the top," an emotional Tiffany recounted. "I don't know what, but I'm going to put you on something."
Leslie Jones, a writer on "Saturday Night Live," has also received a Netflix comedy special.
Are you satisfied with the company's improvements?
Do you think Tiffany's friends are ready for the big stage?
Share your thoughts below.