'Sextuplets' film short on laughter.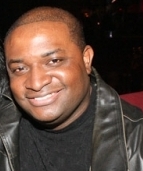 Blog King, Mass Appeal
HOLLYWOOD — Marlon Wayans' latest Netflix conception, "Sextuplets," isn't his best work. As a matter of fact, many critics believe it's downright chintzy and completely void of guffaws. Rotten Tomatoes gave it a craptacular score of 33 percent on its Tomatometer. Jason Bailey, film critic with the New York Times, trashed it. So did Nick Allen with RogerEbert.com. One of many in the cinematic history of banal family reunion films, "Sextuplets" tells the narrative of 47-year-old Alan; a father-to-be orphan who goes on a prolonged road trip to track down his biological mother.
Along the way, Alan — played by Marlon — learns he has a quintet of identical siblings; hence the title "Sextuplets." In addition to Alan's portrayal, Marlon fulfills the zany roles of the other five children plus the family matriarch with many of the characters appearing onscreen concomitantly (reminiscent of Eddie Murphy's "Nutty Professor").
If you don't turn on @Netflix and watch #Sextuplets I'll slap your white face so hard it'll leave red handprint so big you'll look like the Canadian flag 🇨🇦 now do it! right now! Pronto! Agora! Chegum (that's Korean… https://t.co/lQmJ29bs2d

— marlon wayans (@MarlonWayans) August 19, 2019
Each dramatis personae has his or her own distinct mein and articulation coupled with an impeccable display of hairstyles and cosmetics. But they all come up nanoscopic in the comedy department. Hate to say it, but "Sextuplets" is a nugatory slapstick that's a step down from Marlon's "Naked (2017)."
The saving grace are periodic references made to a handful of 70s shows; namely "Mash,""Diff'rent Strokes,""Mork & Mindy" and "The Rockford Files." Don't get it twisted. "Sextuplets" has its moments. But if you're in dire need of a Wayans fix, you'd be sagacious to binge his "Marlon" sitcom instead.
Blog King's Rating: 3 out of 5 popcorn bags
Share your thoughts below.