Convicted felon punches lawyer.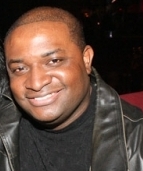 Blog King, Mass Appeal
PHOENIX — Lamont Payne, a convicted felon, received an extended prison sentence after he sucker-punched his legal practitioner in court. The smite transpired in front of the judge and jurors in Phoenix, Arizona. It was also captured on video. According to court docs, Attorney Vladimir Gagic — a public defender — was busy representing Payne on a 2016 charge of assaulting a corrections officer. Payne, who was visibly incensed, complained to the judge about the remiss caliber of legal representation he was receiving from Gagic. As Payne continued to speak out of turn, the judge warned him to shut the hell up.
About a minute later, the judge had seen enough. Payne was ordered to stand up and exit the courtroom. Rather than egress peacefully, Payne turned around and thwacked Gagic smack-dab in his countenance. Payne did, however, avow his wrongdoing in the crime. He also pleaded "guilty" to numerous aggravated assault charges since the late 1990s.
In other words, he ain't one to f*ck with.
Watch the assault.
Share your thoughts.