Jamie Foxx has sexy new friend.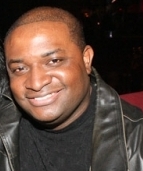 Blog King, Mass Appeal
LOS ANGELES, Cali — Like Stella, a pair of middle-aged entertainers are gettin' their groove back. First, 49-year-old Diddy was spotted dating Steve Harvey's 22-year-old daughter, Lori. Now, we've learned 51-year-old Jamie Foxx is shackin' up with 19-year-old singer Sela Vave. Even though he has a half-naked popsy sauntering throughout his crib, Jamie insists there's no hanky panky going on. Instead, he swears it's all business. So how did we get here? Well, sh*t hit the fan when paparazzi caught Jamie holding hands with Sela last weekend at a popular nightclub in Los Angeles. At the time, nobody knew the "Beat Shazam" host had severed ties with 40-year-old actress Katie Holmes, his inamorata of 6 years.
In an effort to propel Sela's music career, Jamie moved the prepossessing damsel into his Thousand Oaks mansion. The Oscar winner gave an elucidation on their impolitic living arrangement via Instagram video. "When I met Ed Sheeran, I didn't know him from Adam," Jamie explained.
"He slept on my couch for six weeks. Nick Cannon was 13 years old, he used to sleep at my old house … everybody [came] to my crib. I did the same thing with her … We took her under our wing … We wanted to treat her the same way and give her the opportunity."
Jamie said he spoke with Sela's mom prior to moving day. "I spoke to that girl's mom and she put her trust in me," he said. Since unpacking her bags, Sela said she's been called a "whore, slut, homewrecker, thot, gold digger," but "it doesn't matter to me [because] I'm out here to work and do what I love most."
Jamie's daughter Corinne, 25, is around Sela's age.
Do you find their cohabitation inappropriate?
Did Jamie pull an R. Kelly by hoodwinking Sela's mom?
Share your thoughts below.