Eddie Murphy is 'Dolemite 2019.'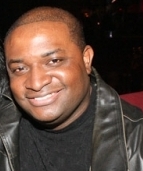 Blog King, Mass Appeal
HOLLYWOOD — "Way down in the jungle deep. The badass lion stepped on the signifying monkey's feet…" Despite fathering a tribe of ten children, Eddie Murphy remains ridiculously spry in Hollywood. The 58-year-old humorist is in the process of filming a sequel to the 1988 African-based comedy "Coming to America" which comes on the heels of a 31-year hiatus. Eddie also has a new slapstick materializing on Netflix. "Dolemite Is My Name" premieres in September.
Directed by Craig Brewer, the aforementioned Blaxploitation remake chronicles the comedic ascension of Rudy Ray Moore (Eddie Murphy) who proved detractors wrong when his farcical, risqué, kung-fu fighting alter ego — Dolemite — became a cultural prodigy in the mid-70s.
In addition to Eddie, "Dolemite Is My Name" features a star-studded cast anchored by Chris Rock, Wesley Snipes, Snoop Dogg, Craig Robinson, Keegan-Michael Key, Mike Epps and several others.
Brewer's conception, however, faces stiff demurral from Rusty Wesson — Rudy Ray Moore's legal daughter. She's suing Eddie and Netflix, claiming they're gettin' rich off the film while she's struggling on welfare and food stamps. Rusty said she has health issues too. Does she deserve a cut?
Are you excited about the remake?
Share your thoughts below.